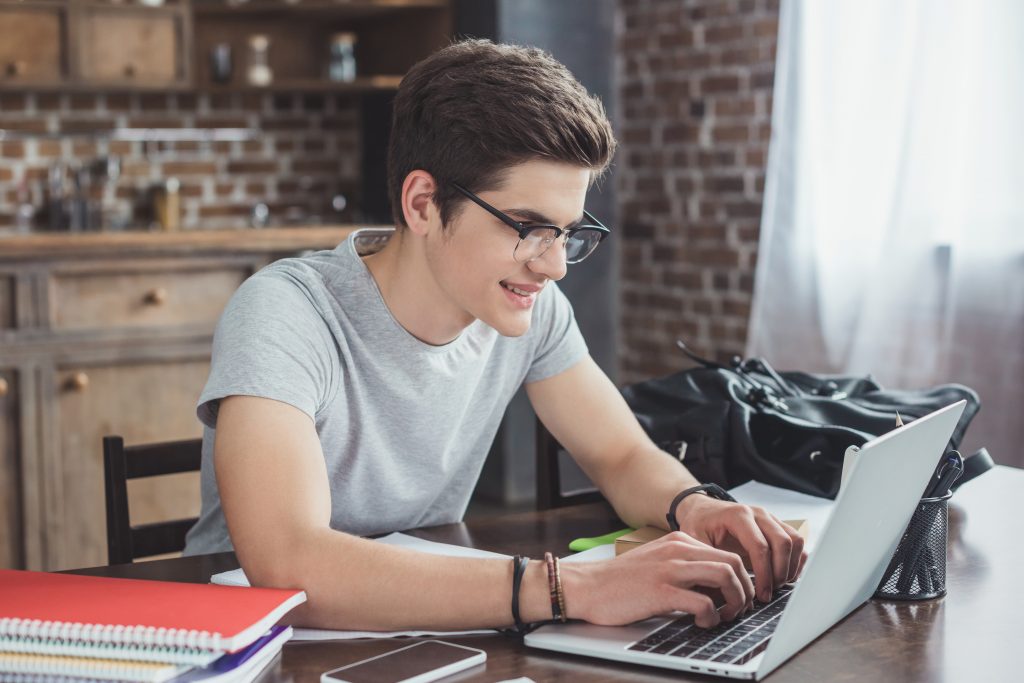 After a little time off over the summer, you get a fresh start to a new school year. It's an opportunity to review your school habits and skills, and give them a refresh too! You may have had a great time meeting new friends, enjoying new places, trying new coffee shops or hangout spots. Now it's time to focus that energy on creating a new and improved learning environment for a successful school year at your free Arizona online high school. Maybe some of those cool places can become this year's classroom! Hope High School Online helps students develop a unique and personalized learning experience to create the best habits for school now and in the future.
Renew Your Online School Habits and Schedule After Summer Fun
The end of summer has a way of making us feel nostalgic and missing the feeling of being fun and free. But, there is a new opportunity in front of you to focus on, enhancing your current learning habits and create a better you. Below are some tips on how to get that done:
Update Schedule to Prioritize New Class Workload in Fall
Map out your new schedule and classes. Plan a month ahead to be aware of everything you have going on, instead of just looking a week in advance.
Plan school time around any upcoming events taking place this time of year like work schedules, fall sports, activities, and group or club meetings.
Review your notes right after the class session. This way, you can see if you are struggling with any material and familiarize yourself with it before the next class session.
Prioritize your time equally for all classes. Try and not get too caught up in one challenging course and begin to neglect your other courses.
Establish New Study Habits
Find new spots to study and learn. This could be at some of the new places you enjoyed during the summer.
Flashcards flashcards flashcards! Create flashcards right after the class session; this way, you begin to absorb the information right away through hands on experience.
Remind yourself to self-test and self-monitor your progress. Hope High School Online also sends weekly progress reports, so be sure to stay on top of this report. It is ok if you need to reach out for help or readjust your schedule to meet your needs.
Limit distractions. Multi-tasking is not helpful in a learning environment. Focus on the schoolwork in front of you. Do not worry about what is going on outside that bubble so that you are giving it your full attention for the specific time period you allotted for that class. Afterwards, take a break before tackling the next class.
Seek Help When You First Begin to Notice a Struggle 
No matter how old you are or what grade you are in, asking for help will always be essential. Someone who doesn't ask for needed help only robs themselves of the maximum advancement and success possible. Hope High School Online teachers and coaches are more than happy to help their students when they are struggling in class. There are tutors available to meet as well to practice and understand the material they are learning. Learning how to seek help now will make it easier to do in your future college course or job. 
Renew Your School Schedule to be a Proactive and Successful Student at Our Free Arizona Online High School
At Hope High School Online, we have helped many students personalize their learning environment. We offer extra help in classes, advice on setting up a flexible schedule, and the necessary support to help our students succeed. We are 100% committed to our students' success and its' why we provide a supportive, personalized academic environment that meets each students' unique needs. 
We know our students' success is more than just passing a test.  Our goal is student empowerment. We want our students to own their educational outcomes and become internally motivated.  Our empowering environment is one of the reasons 8 out of 10 students at our free Arizona online high school go on to higher education. 
We encourage you to consider our  accredited, free Arizona online high school to  enjoy academic success. We invite you to download the Hope High School Online info kit HERE. Contact us by e-mail HERE, send us a text at 602-663-8496, or call us at 602-906-4846.96. Let us know how we can help. Find out more HERE! 
Source:
https://www.collegexpress.com/articles-and-advice/majors-and-academics/articles/study-smarter/upgrade-your-study-habits/