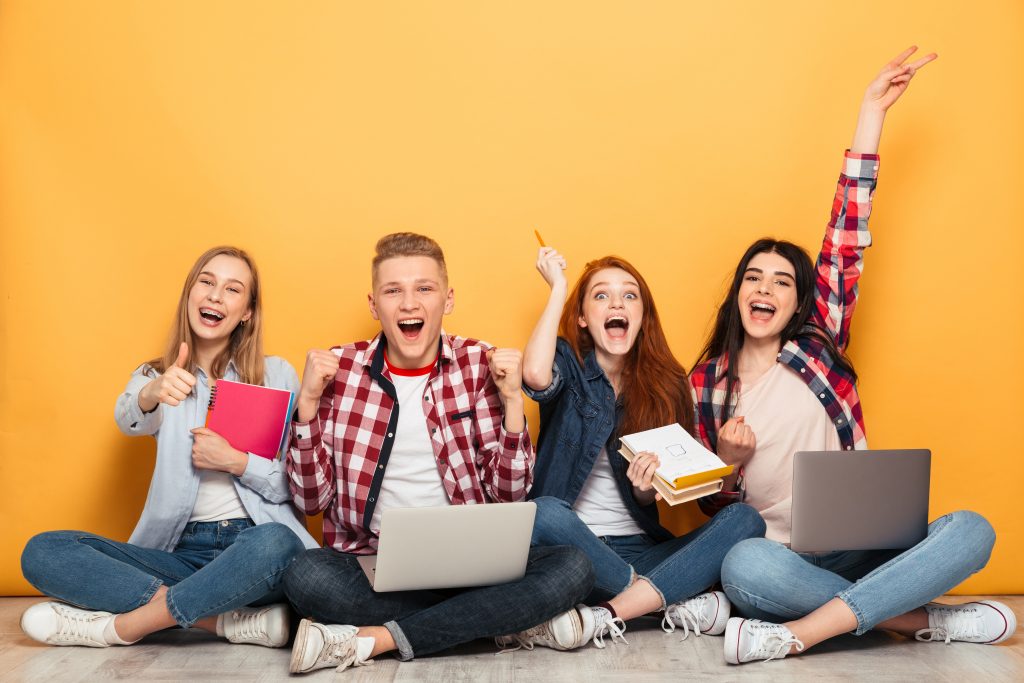 Learning from home at your free Arizona online high school has so many awesome benefits! But do you ever miss the time you spent with your friends at your traditional school? Hope High School Online knows how important social interaction is with friends and other teens. You don't miss out on anything with Hope High School Online! We offer clubs, sports, dances, and field trips. Also, our students are welcome to come to the office for additional support.
We encourage our students to share their positive online high school experience with others. Not only can you tell your friends about the flexible schedule, personalized learning, social interaction, and high-quality online education at HHSO – but you can earn money doing it!
Friends Helping Friends at Hope High's Free Arizona Online High School
When you refer your friends to Hope High's free Arizona online high school, you create opportunities for your friends to grow and succeed as you share your educational journey together. We encourage our students to share the endless advantages of learning at our free online high school, and know how much you and your friends will love learning together. Here's how to share about HHSO with your friends:
Step 1 – Go to our online survey HERE and refer your friend!
Step 2 – When your friend becomes an HHSO student, you both get a free movie ticket after enrollment is complete.
Step 3 – When your friend completes their first class, you get a $50 gift card of your choice!
How awesome is that! Not only do you get to work together with your friends for a common goal of educational success, but you earn money doing it. Learning from our free Arizona online high school allows students to learn in the environment best suited for them with ample support from our teachers and staff. Adding the help and encouragement of friends can make your online high school experience even better.
Working Together Towards A Common Goal – Success in Online High School
Setting up a learning environment unique to you is something Hope High School Online is very excited to offer our students. Your learning environment can involve time with friends to study together, and learn different perspectives.
Forming a study group with your fellow HHSO students can help encourage healthy study habits. Your flexible school schedule allows you to set up meeting times when everyone is available. A study group can help friends stay accountable to their school work, avoid procrastination, and learn new study skills.
Learning with your friends at our free Arizona online high school allows students to help each other with their classes and assignments. If your friend needs a little extra help in math and you are excelling in that subject, you can offer some insight and assistance. If both students need some extra help in a class, they can also reach out to our tutors available at Hope High School Online.
Hope High School Online Encourages Students To Share The Benefits of Free High School Online
Friends learning together opens many possibilities to work towards one common goal – educational success! Plan study times together, keep each other accountable on school work and create fun and exciting ways to learn together to benefit your futures.
At Hope High School Online, we are 100% committed to our Arizona online high school students' success. It is the reason we create a positive, supportive academic environment. We know our students' success prepares them for their future. We equip our students to succeed academically and in life.
For more information about our free Arizona online high school, download the Hope High School Online info kit HERE, use live chat on our website, e-mail us HERE, or give us a text or call at 602-663-8496. We offer an award-winning curriculum, a safe environment, we support students and families, and our students succeed! Find out more HERE!
Source:
https://www.yc.edu/v6/learning-center/docs/Study%20Group%20-%20Student%20-%20Benefits.pdf