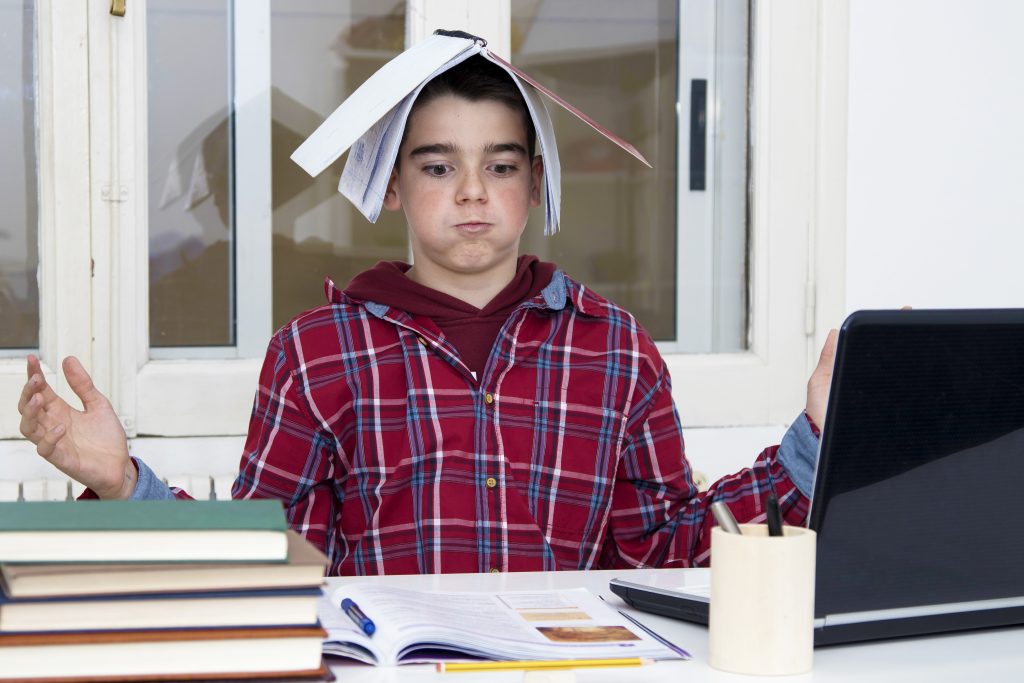 As a free high school online student, do you ever find yourself sitting there, pulling at your hair, on the brink of giving up? Get that picture in your mind, and then look down and see what your desk or work area looks like. Is it messy? Littered with trash, scattered paper, and device charging cords? Or perhaps half eaten snacks and leftover drinks?
Being able to find your favorite study spot is one of the joys of learning at home with free high school online. But not paying attention to the space you are working in can end up causing you more stress than it's worth. Why? Paying attention to the organization of your learning space sets you up for better academic performance.
Workspace Unique To Your Learning Style
It doesn't mean it has to look like a desk at a brick and mortar high school. One of the benefits of going to high school at home is that recognition that every student thinks and learns differently, and the opportunity to create a learning space that optimizes how you learn. Some students need the space of a desk with a notebook handy to jot down thoughts and notes to better comprehend content. Other students love the freedom to sit in the grass outside while working on their assignments. Whatever the perfect spot may be, enjoying your learning space is important. Enjoying learning can lessen stress, which improves academic performance.
Understanding whether you are a visual, auditory, or hands-on learner and including the learning tools you need into your learning spot can help you set up the perfect spot for optimal learning. Your Hope High School Online teacher can help you identify your unique learning style, so don't hesitate to ask!
Visual learners may do better at a desk setting with their materials neatly organized and readily available. Tips for visual learners during their learning time are:
Have a notebook readily available to write out checklists, draw pictures of concepts, and jot down keywords
Highlight relevant material in different colors
Create and use flashcards
Use a small chalkboard or whiteboard to note important information and practice new learning material
Auditory learners could work better in both indoor and outdoor settings. As long as they have access to sounds, they can learn where they feel most comfortable at free online high school. Tips for auditory learners are:
Listen to lectures or online videos about the subject matter
Record yourself reading the material and then review information while listening to the recording
Always read content aloud
Create a rhythm and tune with new material and rehearse it aloud
Hands-on learners may work better in an open space, whether it is an inside or outdoors learning environment. For a hands on learner, physical experience creates a better understanding of the learning material. Tips for the hands-on learner are:
Trace words and diagrams on paper
Use body movements to remember the content
Act out a new concept by role-playing and moving around
Explore indoor and outdoor areas to find real-world objects that match new learning material
Remember to Get Up and Move
While learning during online high school, remembering to get up and move is very important to keep your focus active. Creating a schedule of specific break times helps remind you to take a break from class and let your mind have a second to rest. During these breaks, use the time for what you want to do. Do move around and exercise, but you can listen to music, play games on your phone, or checking your social media all while taking a walk outside.
With the freedom of free high school online, you are not limited to only moving around as you change classes, scurrying from classroom to classroom. You can move from the living room to the kitchen, go outside, or go to a coffee shop to change up the scenery.
Taking multiple breaks during your learning time allows you to come back to the learning material with more energy and a clearer mind. For a more stress-free learning space, try and clean up your workspace before taking breaks so when you return you are ready to start your school time.
Learning in Your Favorite Spot With Free High School Online
Finding a favorite spot to learn is essential to get your mind ready for "study-mode." When you enter your favorite place for school time, your brain will catch on that this is the area with little distractions that is best to learn in for better academic performance. Isn't is great that when you learn at home with free high school online, your favorite spot can be on a couch, at a desk, or the beautiful outdoors?
Hope High School Online is 100% committed to our Arizona online high school students' success. We provide a supportive academic environment – because we know our students' success is more than just a test score. We want to help you find ways to learn your very best for a brighter future. If you are researching your options for an accredited, free high school online in Arizona, download the Hope High School Online info kit HERE, use live chat on our website, e-mail us HERE, or give us a call at 602-663-8496. We offer an award-winning curriculum, a safe environment, and we support our students and families! Find out more HERE!
Sources –
https://www.ameritech.edu/blog/tips-make-environment-best-study-space/

https://www.umassd.edu/dss/resources/faculty–staff/how-to-teach-and-accommodate/how-to-accommodate-different-learning-styles/