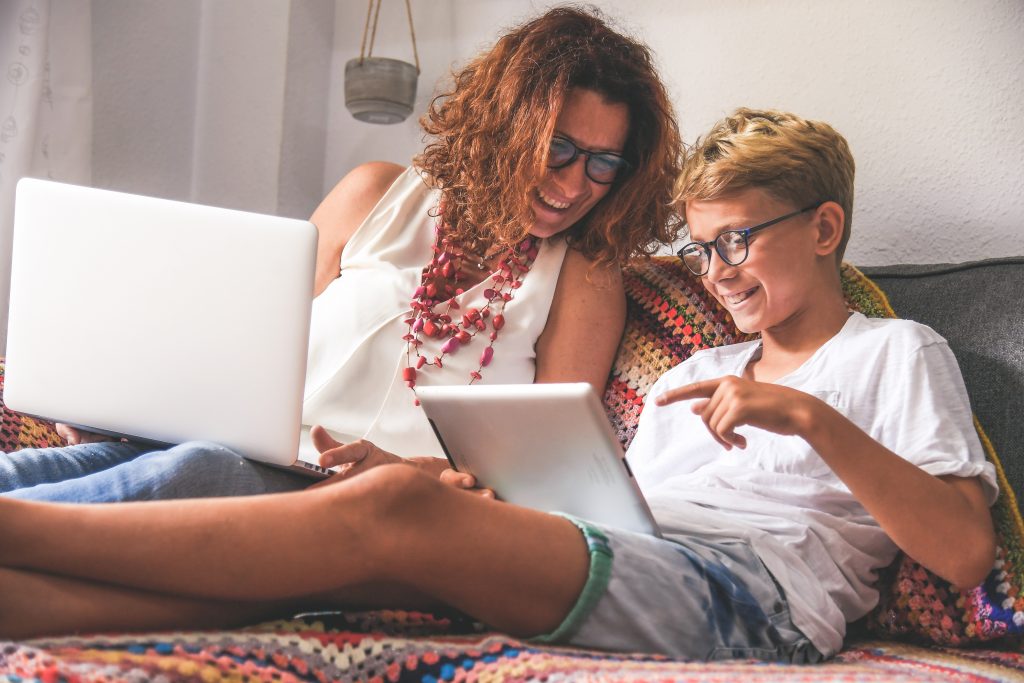 Research illustrates the crucial difference parental involvement can make in the academic outcomes for your student. At Hope High School Online, we understand the importance of being involved in your student's online high school education in Arizona. We make it easy for you to keep an eye out for your student and their education. On our YouTube channel, a video provides step-by-step instructions to help you monitor grades, student activity, and upcoming events for your high school student. 
Making it Easier for Parents to Monitor Their Student's Online High School Education in Arizona
Watch our helpful HHSO Youtube video that guides parents through the steps of logging into Genius and Edgenuity family portal, HERE. Each portal gives access to digital tools and allows you to stay connected to your student's progress. Some of the reports and accessibilities parents have on the Genius and Edgenuity dashboards are:
Upcoming Events box on Genius shows events, office closures, upcoming school breaks, and you can view an entire calendar.
Academic Snapshot link on Genius is a glance at current courses your student is enrolled in and shows if they are falling behind or ahead using a color-coded graph – green, yellow, and red. It also suggests a pace for the remaining assignments to be completed by the course end date.
Grade Book link on Genius shows all enrolled courses with each end date, how many weeks are left, current grade, and the number of remaining assignments. It also lists the teacher for each course and provides their contact information.
Student Activity link on Genius shows the minutes that your student has spent in each course by day, and allows you to select a specific timeframe.
When logged in to Edgenuity, you will see your student's time spent in each course and the number of activities completed.
Attendance Log on Edgenuity shows the exact time frames students worked in each course and how many activities were completed.
Progress Report on Edgenuity shows if your student is behind, on time, or ahead in each course. Assignments completed and assignments left to be completed is also viewable.
Link and subscribe to our Youtube channel HERE to stay up to date with new useful videos for you and your Arizona online high school student!
Reach Out To Your Student's Hope High School Online Teachers When it is Convenient For You 
Hope High School Online encourages our parents to communicate directly with teachers and staff. The ability to communicate with your student's teachers whenever you are available is essential for busy parents. No appointment needed!
Parents can connect with teachers through the Genius dashboard, in the Grade Book link. Teacher's emails are available for each one of your student's courses. Teachers are available to answer any questions specific to your student and their course. In the Mentor Information link, you can find the contact information for your student's academic coach for any other questions you may have. Academic coaches and teachers are here to help navigate the reports available. Please do not hesitate to contact us with any questions!
Hope High School Online is Committed to Providing Quality Online Education
Hope High School Online is ranked #1 in Arizona for ELA and #9 for Math based on AzMERIT rankings for alternative schools. We are an Arizona charter school approved through the Arizona State Board for Charter Schools. You can find out more about our high-quality academic programs HERE.
Hope High School Online staff would be honored for you to entrust the education of your teenager to our Arizona virtual high school. We are committed to giving our students and families the quality education and personal support they need to succeed. Read more about the opportunity for your student to receive a free online high school education in Arizona through Hope High School Online HERE. Also, connect with us on Facebook HERE to stay up to date on parental resources. For more information, reach out to us by email HERE, send us a text at 602-663-8496, or call us at 602-906-4846.