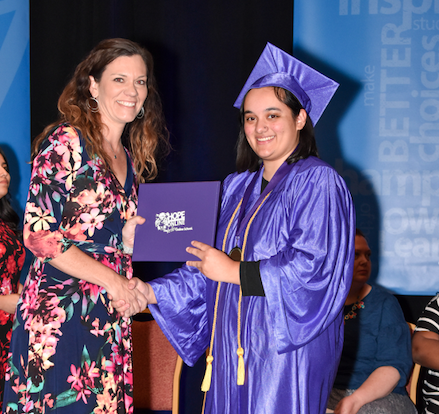 The Hope High School Online class of 2019 just recently graduated and are starting to pave the way for their future! Some students find themselves on their way to college and some look for success with career and technical training. Students graduating from our Arizona online high school are leaving legacies and inspiring other students to continue their perseverance in school to earn diplomas, degrees, or certificates to benefit their future self and make an impression in this world.
Hope High Online Students are Paving the Way Towards Success
Arizona online high school education from Hope High School Online benefits students in so many ways – self-paced learning, award-winning curriculum from the comfort of home, free online education, and high-quality academics, to name just a few. Arizona online high school can also provide additional academic challenge for students that are not feeling they are accomplishing as much as they want in traditional high school.
Laila, Hope High School Online's 2019 valedictorian, began attending HHSO for this very reason. She was craving more challenge and wanted to advance quicker than a traditional classroom. This is why she chose Hope High School Online. She was able to own her education and work at the pace she felt most comfortable with, which was pretty fast! Laila will be attending Arizona State University and taking advantage of the scholarship she earned with her hard work and academic accomplishment at Hope High School Online.
Our Arizona online high school gives students the customized educational plan they desire. The personalized learning plans we create for every Hope High School Online student meets their individual needs to help provide the future they want!

Students are Learning Technical Careers For a Better Future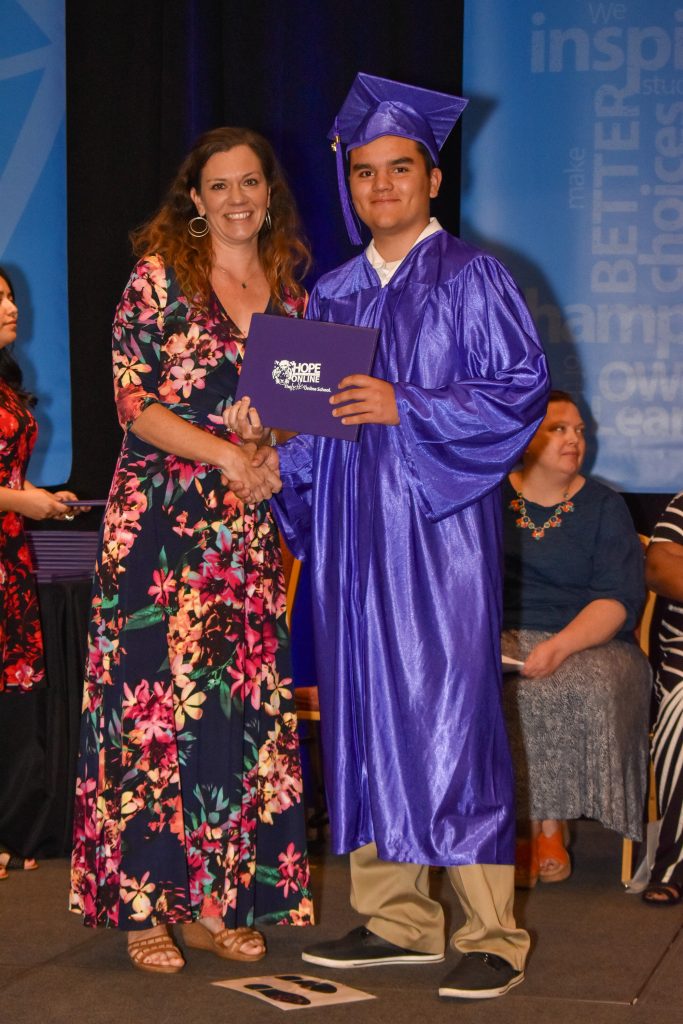 What do you see yourself seeking after you graduate from online high school in Arizona? You have your diploma, and now what? What if there was a way to have a job in an incredible vocation path right after you graduate from online high school? Meet Carsten, one of our very own HHSO 2019 graduates. Carsten needed to work while in school, and he received training through Hope High School Online's affiliation with West Mec. Carsten graduated with a job already as a plumber!
Many career and technical education programs in Arizona are available to help students prepare for an exciting occupation while in high school. West Mec has over 56,000 high school students enrolled in CTE programs to gain the knowledge and training necessary to succeed in a profession once they graduate. Hope High School Online encourages our students to take advantage of this great opportunity if this is the vocational path they prefer.
As an Arizona online high school student, there is flexibility to work towards a profession while finishing classes for graduation. There are many different careers and technical education courses for student's to explore and find the one that makes them excited for their future job! Does fire science, culinary, coding, massage therapy, technology, aesthetician, machining sound like something you would love to do for work every day? Ask your Hope High School Online Academic Coach about career and technical programs available at West Mec so you can start training for your dream job before high school graduation. You can also check out career training programs available at West Mec HERE.


Hope High School Online Will Better Students' Futures
At Hope High School Online, we are 100% committed to our Arizona online high school students' success. It is the reason why we provide a supportive academic environment – because we know our students' success is more than just passing a test. We equip our students to succeed academically and in life to prepare for a bright, successful future.
If you are still researching your options for an accredited, free Arizona online high school, use our live chat on our website, e-mail us HERE, or give us a call at 602-663-8496. We offer an award-winning curriculum, a safe environment, we support students and families, and our students succeed! Find out more HERE!


Sources:
https://west-mec.edu/what-is-west-mec/