How many online high school AZ students can say that they go on field trips? Let alone, out of state field trips.  And, even further than that, an amusement park?!
Online School AZ Students Take a Trip with Sister School to California
Well, Hope High School Online can! Last weekend a handful of our online school AZ students took the trip with our sister school (Hope High School) to California. To say our students loved it would be an understatement! You couldn't keep them from smiling if you tried!
Many Online High School AZ Students Have Never Been Out of Arizona
Excitement fill the air as the chartered bus pulled up for the students to board. Squeals were heard and anticipation felt as students found their seats on the bus. Many of our online school AZ students do not have the opportunity to travel outside of Arizona, so this trip was definitely a welcomed opportunity!
Once in California, students were provided a meal at the popular LA restaurant,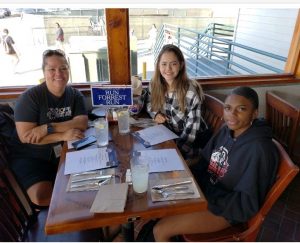 Bubba Gump's. It earned a thumbs up from our students! With stomachs full and energy levels still high, a walk on the busy pier was definitely welcomed! What student could resist a selfie with such a beautiful background?!
Of course, the next activity was playing at the beach! How could you drive to California and not enjoy the picturesque scene of the beaches? Our online high school AZ students became kids again as they played on the sandy beaches with their fellow students and staff members. It was also a time to pause and take it all in. One student remarked that the beach felt relaxing and it was helpful to be in a different setting, to hear the waves, and see the view. However, the relaxing part ended when they entered 6 Flags Magic Mountain Park!
The real adventure started when students coaxed some of the more roller coaster shy students (and staff) onto the roller coasters. They rode the extreme rides, filled themselves with food, and most of all appreciated the time to be with their peers. HHSO students enjoyed the time getting to know their fellow classmates and staff outside of school. The only thing that our online school AZ students were left wondering is when they can return to California for the next adventure!
Hope High School Online is Transformational
Our online high school AZ students agree that Hope High School Online is a great choice for a transformational high school experience that students really enjoy.  While learning is online, there are many opportunities, just like our Magic Mountain adventure for our students to experience positive interactions, including clubs, field trips, sports, and even dances.   You can find out more about how and why our online high school AZ students find the experience positive and life changing.