Who says Arizona online charter school students at Hope High School Online don't have fun?
Principal Erin Horn's philosophy is, "Bring the fun and they will come!". Her magic formula for fun is below:
Hot dogs. Check.
Hamburgers. Check.
Desserts. Check.
Photo Booth. Check.
Picturesque location. Check.
Perfect Weather. Check.
Games. Check.
Prizes. Check.
Students. Check.
Families. Check.
FUN. Double Check!
Hope High School Online's Back to School Hangout
What a memorable evening it was at Hope High School Online's Back to School Hangout. Students were able to meet their teachers and other school staff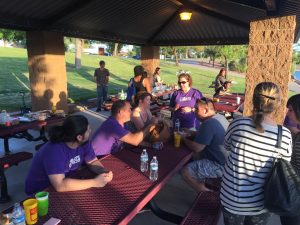 along with meeting their peers! HHSO students and staff met at Tempe Kiwanis park with the perfect lake backdrop. Hope High School Online staff believes that relationships are key to student success. As a result, parent/student relationships are a priority, our incredibly dedicated staff worked hard to create a memorable event for students and their families.
Hope High School Online Commits to Relationships with Students and Families
It all started with some grilling by our very unforgettable Social Studies teacher, Mr. Blakely. He made sure our hot dogs and burgers were grilled to perfection. Students, staff, and families visited to make sure we were all able to match students' names with their faces. Arizona online charter school programs do not always have this opportunity; however, Hope High School Online commits to getting to know our students so that they are more than a name on a class roster. Our hangouts are just one of the ways we are able to accomplish this!
Building a rapport with students and their families is one of the most foundational parts of our online high school. We know that relationships equal results. In order to help and best support our students, we must know them, their goals, their aspirations, learning styles, and interests. Communicating with us is also easy through live online chat, e-mail, phone, and even through our social media channels. Our Contact Us page is also a good way to reach Hope High Online. We are committed to supporting our students and their families with good communication. Our hangouts are the perfect opportunity to get to know our students and families and build a community of learners!
Success. Check.