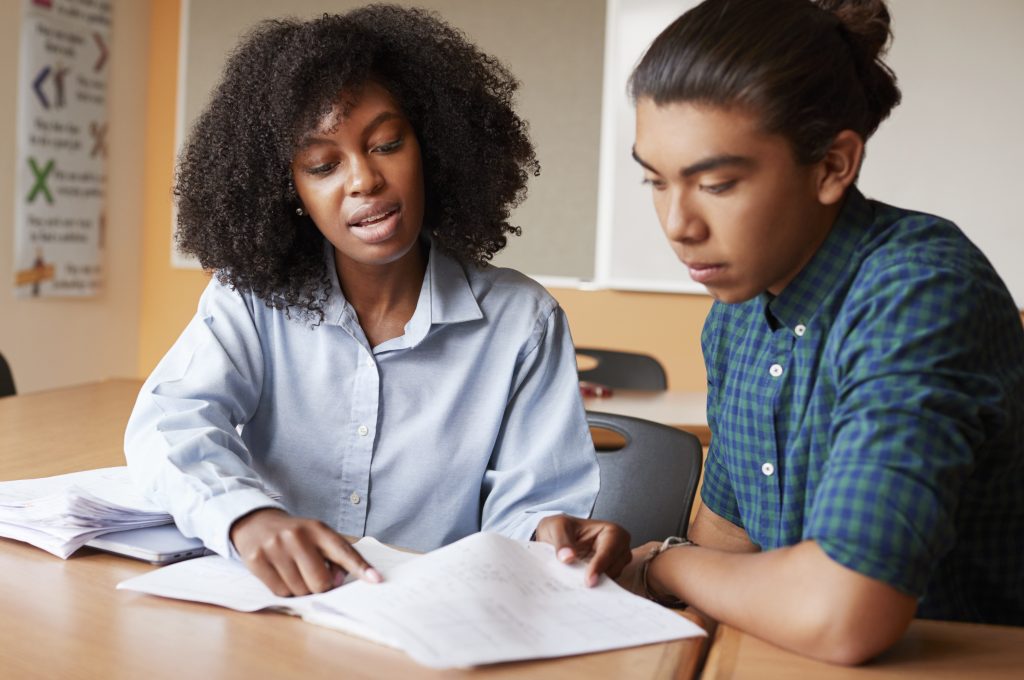 How amazing does this sound as a high school student? Waking up at noon, eating lunch while watching your favorite tv show, or working on your writing assignment in your pajamas? Hope High School Online students love the freedom that comes with going to school online for free at home.
The freedom is great, but what about access to the same help you can get at a traditional school? Some people believe that because you go to online high school, you are just on your own. Well, Hope High School is here to change that thought! Teacher help and tutoring is readily available and really encouraged for our students learning from home. Reaching out for help when you are lost, unsure, struggling, or in need of challenge is one of the best things you can do as a student to better your education.

Benefits of Tutoring For All Students Attending Free Online School

Whether you are struggling with a new concept in a class or need ongoing help for a subject, tutoring is a fantastic way to own your education and academic performance outcomes. The one-on-one time with your online teacher or coach can be the way to take your learning to the next level.

There are so many benefits of tutoring that can help you develop study and learning skills for your own success, and some advantages are –
Personalized learning experience
Learning can become fun and enjoyable
Teaches you how to control your learning style and learning pace
Improves confidence in your abilities and skills
Develops work and study habits
Encourages independence and responsibility
Overcome learning obstacles
Freedom to ask questions directly to your teacher
Provides challenges to reach your full potential
Prepares you for college
Students Attending School Online For Free Should Never Be Just Trying to Get Through High School on Their Own
There are limitless reasons why you should reach out to your free high school online teacher or coach to talk about the option of tutoring. Even if a student is excelling in their courses, tutoring is still a great option! The best way to be an excellent student is to never stop learning. Your future self will thank you for it. Learning at home with online school means you can easily reach out for help whenever you need it. You are not in it alone – we are here to help you succeed. Working individually with your teacher allows them to assess your learning style, strengths, and weaknesses to tailor the instruction to your specific needs.
Doesn't personalized learning sound like a great way to learn? One-on-one tutoring with your Hope High School Online teacher is available, and we encourage it! What better way is there to excel in your classes and find out better ways to learn that work just for you?

For more information about Hope High School Online, visit us HERE. Or, if you are a current Hope High School Online student, reach out to your teacher or school staff for more information on how you can set up a tutoring appointment to better your education. We also encourage our prospective and current students to check out our blog HERE for more tips on how to succeed at free high school online.
How Hope High School Online Can Help You!
Hope High School Online is 100% committed to our Arizona online high school students' success. We provide a supportive academic environment – because we know our students' success is more than just a test score. With personalized tutoring available for our students, Hope High School Online teachers are committed to your futures. We want to help you learn the very best way for a brighter future.
If you are researching your options for an accredited, high school online for free, use our live chat on our website, e-mail us HERE, or give us a call at 602-663-8496. We offer an award-winning curriculum, a safe environment, and we support our students and families!

Source:
https://www.oxfordlearning.com/benefits-of-tutoring/