Arizona Online High School Students Are Transformed by Community Service
"I'm going to Hollywood!!", exclaimed Stella.  Stella is a resident at a local senior community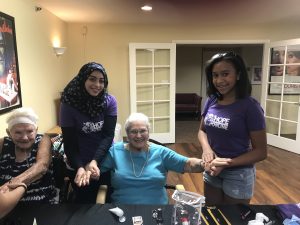 where Hope High School Online and Hope High School students provided manicures and makeovers. Students from both high schools came together as "Glamour Gals" to serve senior citizens.
Stella was the star of the day.  She let us know how excited she was for our students to "beautify" her!! Repeatedly Stella declared she was going to Hollywood after her makeover! As the life of the party, she had everyone there excited about the makeovers and manicures!
Arizona Online High School Students and Senior Citizens Turn Out for "Glamour Gals"
We had an incredible turnout of residents and students. Hope High School Online staff truly believe that the power of service transforms student experiences for Arizona online high school students.  It also powerfully impacts those receiving the good deeds! Not all learning happens inside the classroom.  Serving the community teaches our students incredibly important lessons.  These lessons include the shared responsibility of community service and the transforming power of kindness.
As a result of this wonderful experience, the Arizona online high school students at Hope High School Online are already looking forward to our next visit.  We know our new friends look forward to spending another day enjoying manicures and makeovers!